When I hear "Nicaragua," it conjures up memories of my mom cooking supper in the kitchen while Dan Rather reported the day's news. He would talk about the Reagan Administration backing the Contras against the Sandinistas, then show pictures of camouflage-clad Commandos brandishing AK-47s.
It was a different time in the 1980s. Nicaragua was embroiled in a bloody civil war. In the States, the BS coming from our president was more nuanced and structured than today:
"A few months ago, I told the American people I did not trade arms for hostages. My heart and my best intentions still tell me that's true, but the facts and evidence tell me it is not." – Ronald Reagan, admitting the Iran-Contra Affair, March 1987  
It wouldn't be until the 21st century that Dan Rather would become the godfather of "fake news."
We Live in a Freer World
I've visited countries in the past few years Americans wouldn't dream of going in the 80s. Czech Republic was then Czechoslovakia behind the Iron Curtain. Cambodia was only a few years removed from a genocide in which nearly two million people were murdered. Here in Nicaragua, an estimated 43,000 people were killed, wounded or kidnapped during their Contra War (1981-1988).
No longer marked by political unrest, the low costs and abundance of hostals make Nicaragua a backpacker's dream. Since the fifty shades of gray in my goatee often preclude me from booking hostals (some have 35-year-old age limits), I spend a little more on lodging and enjoy peaceful sleep. In addition to cheap accommodations, I was lured by Nicaragua's colonial architecture, Pacific beach towns and volcanic landscapes.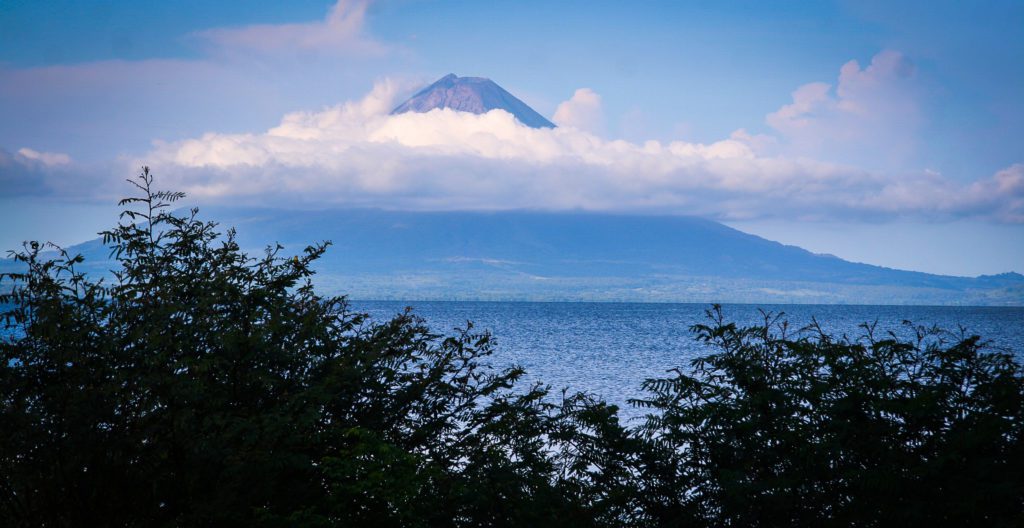 Where to Go and What to See
Below is the itinerary recommended by my buddy who was born & raised in Nicaragua. He also provided a few pictures for the blog – BIG thanks, Jairo! I've added commentary from each activity along with a cost breakdown for each day, totaled at the end. First, some notes:
I highly recommend downloading "Waze" app for navigating Nicaragua. Once you type in your destination, Waze will guide you without needing wifi.
All costs below are for two persons i.e. dinner is for two, tickets are for two, etc.
Currency conversions (Cordobas to USD) are rounded to nearest dollar.
Breakfast was included at all hotels.
It's ok to take buses around Nicaragua – most tourists do. Roads are good.
I don't include airfare because costs vary widely. For example, I frequently use escapehouston.com & scottscheapflights.com to fly internationally as cheaply as possible, often taking connecting or red-eye flights. I'd take "a cargo plane full of rubber dog shit out of Hong Kong" if it would save money on airfare. Click here for a list of travel and airline credit cards with details on how to get perks.
Day 1: Managua
Arrive in Managua
Pickup rental car at airport
If you rent a car, book in advance – they're relatively cheap and save time. We used Budget. Don't be fooled by the insurance policies. Online it says insurance is optional. Insurance is not optional – it must be purchased at counter and can cost twice the base rate of car. There isn't much to see and do in Managua. Our flight arrived late so we booked a hotel for one night. We got out of there first thing in the morning.
Costs: Total cost for 7-day car rental including insurance $192; dinner $17; one-night stay $32
Day 2: León
Drive to León (1 hr & 45 mins drive)
Walk the colonial town, visit museums
Tour top of Catedral de León
León has an interesting revolutionary history reflected in artists' wall murals scattered across the city. The best place for pictures is from top of Catedral de Leon. Purchase tickets in back of church (small door). We stayed at Hotel Libano next door to Catedral de Leon.
Cost for Catedral tickets: 130 Cordobas (~$4); dinner $18; one-night hotel stay at Hotel Libano in León $54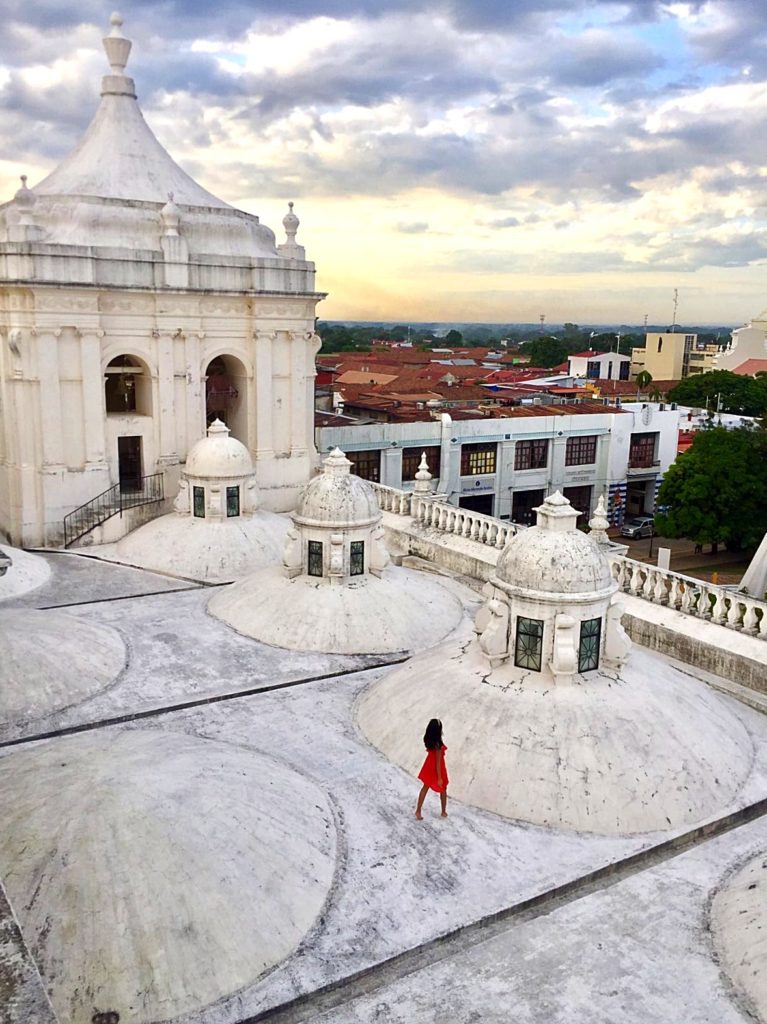 Day 3: León / Granada
Hike Cerro Negro Volcano + ash boarding in León
Drive to Granada (3 hrs drive without stops)
Stop at Masaya National Park to see inside volcano (lava lava lava lava)
Stop at Catarina for views
We booked Cerro Negro Volcano hike + volcano ash boarding through Hotel Libano (takes 4 hrs total). Masaya Nat'l. Park & Catarina are quick stops on the way to Granada (plan 1 hour total for stops).
Costs: Cerro Negro Volcano + sandboarding: $60; lunch $13; Masaya National Park ticket 200 Cordobas ($6); ticket for Catarina 30 Cordobas ($2); dinner $22; one-night hotel stay at Miss Margrits in Granada $63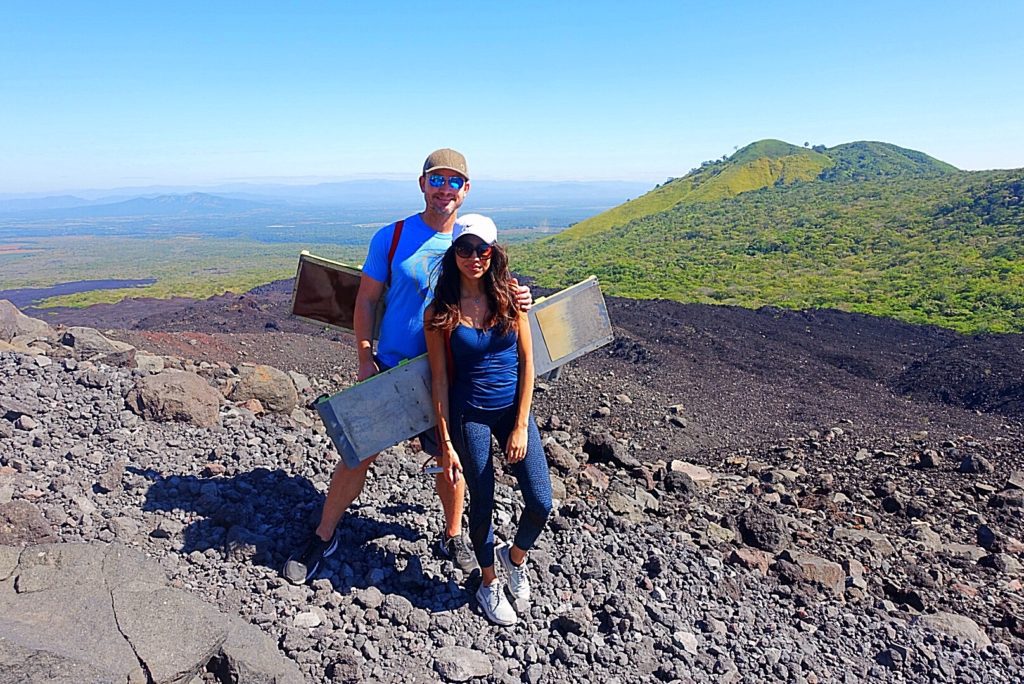 Day 4: Granada / Ometepe / San Juan Del Sur
Climb bell tower of Iglesia La Merced – best views of Granada
Drive to San Jorge
Take ferry to Ometepe Island
Tour the island
Take ferry back to San Jorge
Drive to San Juan Del Sur to stay (45 mins drive)
Call from hotel to book ferry ticket to Ometepe Island in advance. We missed the ferry to Ometepe because we arrived five minutes too late without a ticket (they close gate 15 minutes before departure time). Click here for helpful information before visiting island (wish I'd read helpful info instead of relying on instruction from hotel). We'd planned to book a tour of Ometepe Island or drive around ourselves once we got there. The last ferry back to San Jorge leaves the island at 5:30pm.
Costs: Dinner $34
Day 5: San Juan Del Sur
Spend day at the beach, browse boutique shops, get a massage
Watch sunset at happy hour from beach bar/restaurant patio
We booked three nights at La Posada Azul in San Juan Del Sur. Restaurants on beach are expensive. Walk inland for cheaper food options.
Costs: Three nights at La Posada Azul $85/night x 3 = $255; massage $34 x 2 = $68; dinner $16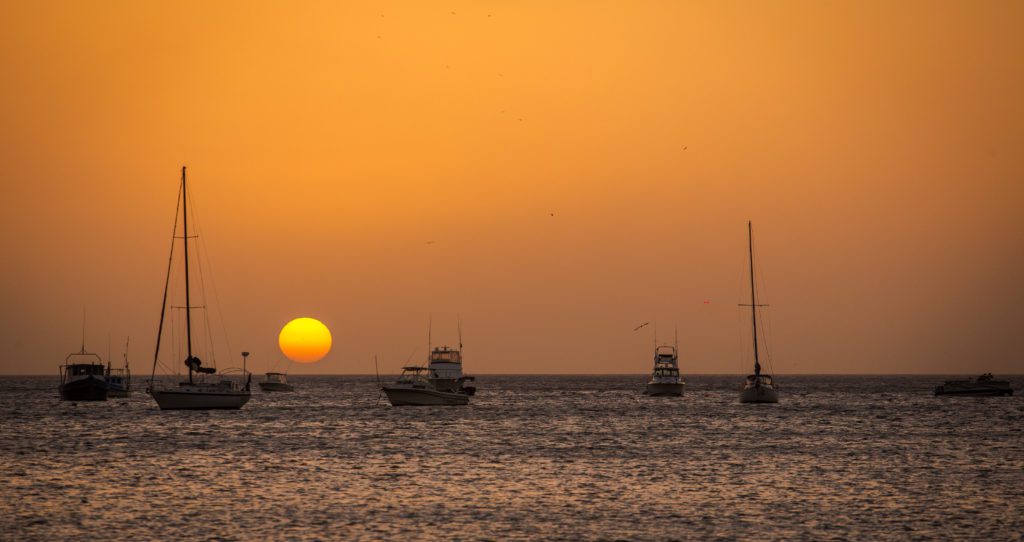 Day 6: San Juan Del Sur
House Hunting
Drive to Playa Maderas (9 km from San Juan Del Sur) to surf, watch other surfers + sunset
The real estate agent who showed us houses in SJDS was solid. If you'd like his contact information, let me know. Playa Maderas was under construction when we were there, but still a great place to surf and watch sunset.
Costs: Lunch at Barrio Cafe $26; Dinner $13
Day 7: Return to Managua
Write about your time in Nicaragua to inform and encourage others to experience the awesomeness of an incredibly underrated country
Drive to Managua Airport
Costs: Fill up rental car with gas $16; lunch $34
Total Cost for 7 Days in Nicaragua for two: $945 + airfare